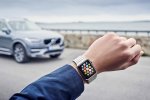 Such an app is the Volvo On Call, launched in 2001 and touted as one of the first car-based telematics systems in the world. In time, the technology made quick steps forwards and Volvo's expertise translated into the app's capacity to offer safety, security and tracking features in the car in case of accident, breakdown or theft using an SIM card inserted inside the vehicle.
But now Volvo is releasing an updated version of the app and the new gizmo features connectivity with smartwatches such as the Apple Watch and Android Wear. Also, Volvo also refreshed the app's design, adopting the Sensus driver interface introduced by the new Volvo XC90.
It basically allows Volvo drivers to control settings like lock/unlock and locate for their car from their wrists. Besides, the app's previous functions were preserved, which means, for example, the car's safety settings were left unchanged.
In Volvo's words, the app "allows you to literally take control over everyday elements in your Volvo. You can set heater timings for those cold and frosty mornings or cool down your car in hot weather, check your fuel level and mileage, or time to next service. It even helps you to locate your car in a crowded parking garage.?
For instance, when the car's airbags are deployed, the system can direct emergency crews to the scene of the incident via a Volvo On Call operator and GPS technology.
Volvo On Call is currently standard in the US, Canada and Brazil. It comes as an option in all other markets, and if you're into fun facts, here's one for you: during the last 12 months Volvo has recorded around 8 million instances when the remote heater starter was used.